Penn & Teller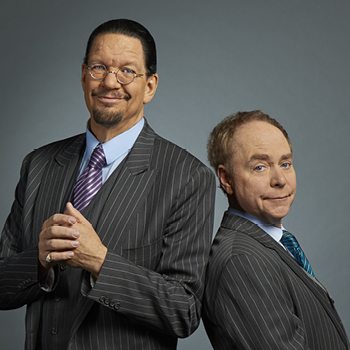 Friday, October 28, 2022 @ 8:00 pm

Must be 21 or older to attend.

For over 45 years Penn & Teller have defied labels—and at times physics and good taste-- by redefining the genre of magic and inventing their own very distinct niche in comedy.

With sold out runs on Broadway, world tours, Emmy-winning TV specials, a star on the Hollywood Walk of Fame and hundreds of outrageous appearances on everything from Fallon to Friends, The Simpsons to Colbert, Modern Family to Big Bang Theory, comedy's most enduring team show no signs of slowing down.

With an amazing eight wins as "Las Vegas Magicians of the Year," their 19-year run at The Rio All-Suite Hotel & Casino makes them the longest running and one of the most-beloved resident headline acts in Las Vegas history, outselling every other resident magician on The Strip.

Currently they host the hit series Penn & Teller: Fool Us! for The CW Network, on which up-and-comers and magic veterans try to fool Penn & Teller for a chance to star in the duo's hit Las Vegas stage show. The show, nominated for a Critic's Choice Award, will return for an eighth hit season in late 2021.